Day 01 - A picture of yourself with ten facts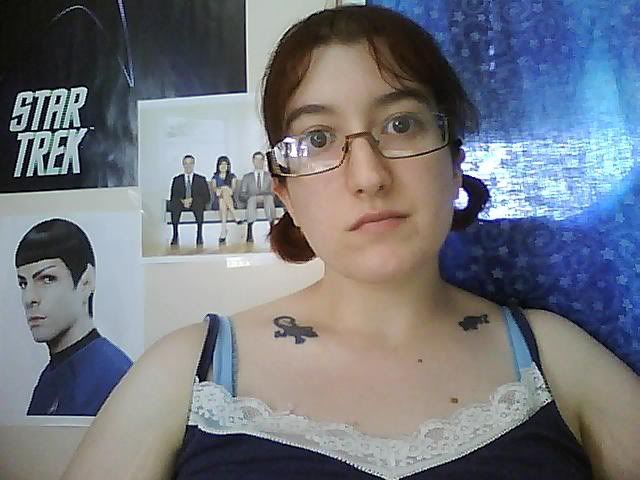 1. My hair is just now long enough to put into pigtails, but it's not long enough for a ponytail yet.
2. I'm thinking about cheating and getting my next tattoo before finishing my internship. I mean, my GPA was awesome this semester, doesn't that deserve a reward?
3. I have basically lived off of fruit salad for the past couple of days. Not the canned stuff either, awesome fruit salad I made myself with cherries and strawberries and blueberries and grapes and apples and pears. I forgot peaches, I'll add them next time. Probably tomorrow.
4. I tried doing rainbows on my big toenails and they did not look very good. I think I need smaller brushes if I'm going to do it on my fingernails.
5. My rats keep making noises like they're trying to kill each other/being killed and it freaks me out every time.
6. My most listened to track of the past week is Pioneers by Bloc Party.
7. I can't sleep without a blanket, even if it's ridiculously hot.
8. Even though I'm not excited about the possibility of moving back to New Bedford, I am a little thrilled at the thought of living across the street from the Atlantic Ocean.
9. I really need to clean my room and I bet I'm going to find a lot of stuff I forgot I owned as I do it.
10. Some small masochistic part of me wants to try to do an all-Venture Brothers bingo for Kink Bingo. I am anxiously awaiting my card to see what I have to work with.
Music:

Death Cab For Cutie - You Are A Tourist